[an error occurred while processing this directive]

[an error occurred while processing this directive] Back to rolling stock index
CN 8245
| | |
| --- | --- |
| Equipment Type | Diesel-electric engine |
| Operational | Yes |
| Built by | Montreal Locomotive Works (MLW) |
| Build date | 1958 |
| Serial number | 82268 |
| Total length | |
| Tare weight | 105 tonnes (116 tons) |
| Loaded weight | |
History
8245 is a diesel switcher (for yard, not road use) built by Montreal Locomotive Works in 1958 for Canadian National. It is a 1,000 HP switcher, model S-12 and CN class MS-10P. The S-12 was an S-4 in a new Canadian car body and only eleven were built, all for CN. Locomotive 8245 was the last of the order.
The locomotive worked for much of its life in the Maritimes and especially in the Moncton area. It was retired by CN in 1985 and stored in the Gordon Yards, Moncton. In 1989 it was traded to the S & H in exchange for NW2 CN 7941, which was sent for scrapping. 8245 was repainted to the S&H red and white colours in early 1992.
It has a turbo-charged 6 cylinder 539 engine, which is the engine used in the MLW RS-1. It weighs 105,454 kg (232,000 lbs.) and has a top speed of 60 kilometers/hour (40 miles/hour).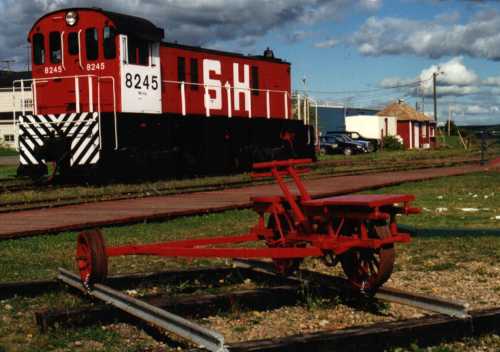 S & H 8245 in the yard at Hillsborough. Photo by Steve Boyko.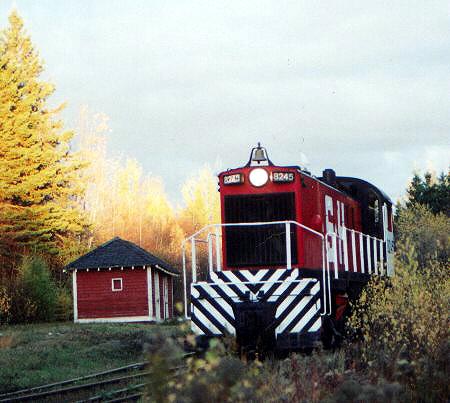 S & H 8245 at Salem Station. Photo by Art Clowes.

Back to rolling stock index [an error occurred while processing this directive]