[an error occurred while processing this directive]

[an error occurred while processing this directive] Back to rolling stock index
CP 29
| | |
| --- | --- |
| Equipment Type | Steam engine |
| Operational | No (transferred) |
| Built by | CPR Delorimer Shops, Montrael |
| Build date | September 1887 |
| Serial number | 1065 |
| Total length | |
| Tare weight | |
| Loaded weight | |
CP 29 was built at CPR's Delorimer Shops in Montreal in September 1887, as #390. It was renumbered around 1905 to #217. In 1912 it was once again renumbered to #29, and extensively rebuilt and modernized.
CP 29's last regular assignment was the Norton to Chipman run in New Brunswick, where light bridges prohibited the use of larger power. In the company of #136 and #144, 29 worked until nearly the end of steam on the CPR. It made its last official steam run on CP out of Montreal in 1960. Following the last run, it was displayed at the CRHA Museum in Delson, Quebec.
CP 29 is class A-1-e and has 17" x 24" cylinders, 70" drivers and has a tractive effort of 13,000 lbs.
CP 29 was badly damaged in the 1994 fire, and was cosmetically restored by CP before being moved to its current location in Calgary, Alberta.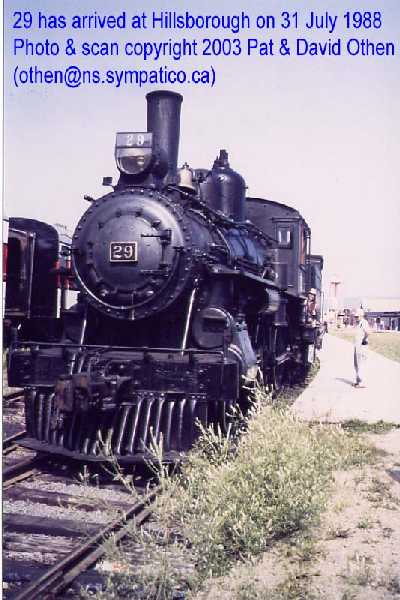 CP 29 arrives in Hillsborough yard July 31, 1988 after a run.
Photo by David Othen, used with permission.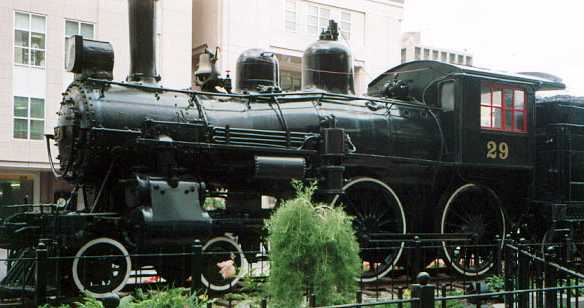 CP 29 on display outside Canadian Pacific headquarters in Calgary, Alberta.
Photo by Byron Webber. Used with permission.

Back to rolling stock index [an error occurred while processing this directive]