[an error occurred while processing this directive]

[an error occurred while processing this directive] Back to rolling stock index
GT 2335 / CN 4275 / CN 15152 / S & H 2335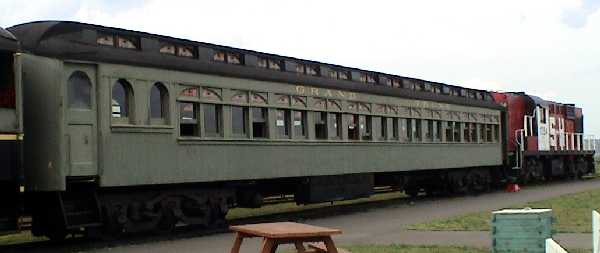 The exterior of the Grand Trunk coach.
| | |
| --- | --- |
| Equipment Type | Heavyweight Passenger Car |
| Operational | Yes |
| Built by | Canadian Car & Foundry (CC&F) |
| Build date | 1914 |
| Serial number | |
| Total length | 25m (82' 3") |
| Weight | 65.2 tonnes (71.8 tons) |
History
This coach was a first class car with a separate smoking room. It was built by CC&F in 1914 on lot 290 as Grand Trunk 2335, and was taken into CN as CN 4275. The clerestory roof windows and tops of seat windows were originally made of leaded glass. The ones you see today were created in Moncton using a silk screen method on plain and bubbled acrylic to duplicate as closely as possible the three original windows that were in the coach when we received it. The etched glass in the smoking compartment is the original glass. The dark wood in the interior is the original oak of the coach; the lighter wood is our replacement pieces. An extensive restoration project, funded by Canada Employment and Immigration under Canada Works, was undertaken in 1985 at a cost of $35,000. Note that the toilet water storage tank is copper (seen from the coach seats) and the taps and sink in the toilet room are solid brass. The toilet seat cover is the original and is solid mahogany.
Cars of this class were used for many years in the Maritimes. This particular car ran on the Moncton to Point Du Chene train shortly before the train was discontinued in 1959. It was transferred to Prince Edward Island, where it replaced shorter wooden cars of the 3500 series. In the early 1960s most of the remaining 4200 series cars were retired, some being stripped down as work equipment flat cars. By 1974, number 4275 was the last remaining car, and it was earmarked for the CN historical collection, renumbered to 15152. It eventually went to the C.R.H.A. Museum at Delson, Quebec for display. It was shipped to Hillsborough on a flat car in November 1983.
This coach has a steel underframe with a wooden superstructure. Some cars of this class were rebuilt in the 1920s with steel plating on the sides and renumbered to the 4900 series. The coach is 25.1m (82' 3") long, 4.3m (14'1") high and weighs 65,272 kg (143,600 lbs.). Restoration of the car began in February 1985 and was completed in April 1988. Sheathing was removed to again expose the arched tops of the windows.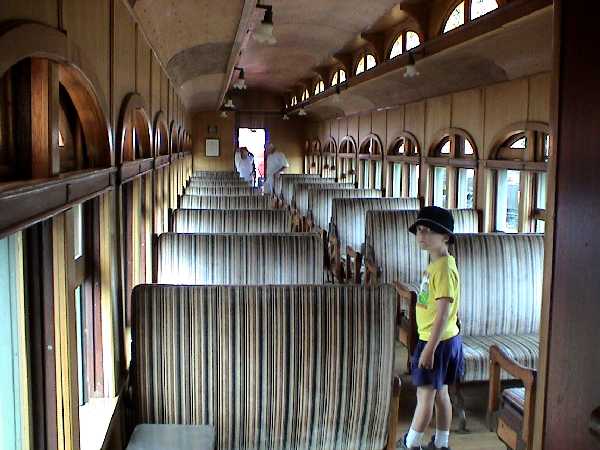 A look at the interior. This shot is taken from beside the
smoking room looking down the length of the coach. The bathroom
is at the far end of the car.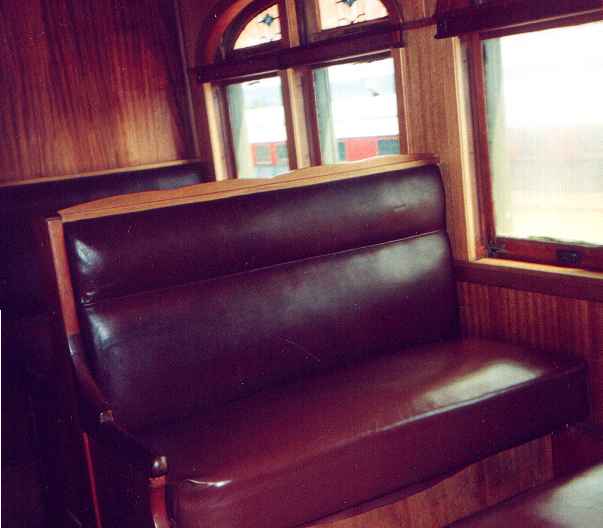 This is the former smoking room of the car.
Of course, we don't allow smoking in here!
Photo by Chris Roy. Used with permission.


Other photos can be found at:

A Photo History of the Prince Edward Island Railway, Allan Graham, p.188 (photo by Kenneth S. MacDonald, taken at Summerside, PEI 1962/10/10)
Back to rolling stock index [an error occurred while processing this directive]